Services
Understanding the Problem
At Smit Group, LLC. we start with listening, and understanding your unique corrosion and non-metallic needs. Our goal is to create a partnership to provide solutions that solve your problems in the most cost effective manner. Long term solutions are our ultimate goal – "putting this problem in the rear view mirror" so we may focus on new problems in the future.
Provide Solutions
Smit Group, LLC. will evaluate your needs and formulate a plan to solve your problem. We are hands on in the concept phase, with site visits, and detailed measurements. Accelerating the design right to the CAD department after concept approval. Making field verification a quick and painless task. All to provide a solution to increase our customer's return on investment.
Process Solutions, Surface Drainage Solution, Fiberglass Structural Solutions, Storage Solutions, or Building Solutions.
Service – Installation, Maintenance, & Integrity Inspections
Installation: For all product Smit Group, LLC. has the resources to provide or support field installations. In large industrial plants, where preferred maintenance/service providers are common, Smit Group, LLC. will work with them to understand the product for a smooth installation. Often joint calibration between Smit Group, LLC. service providers and "local" contractors yield the best results.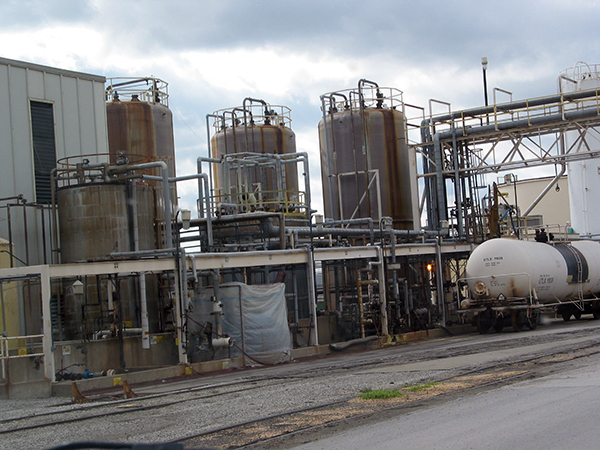 Fiberglass Tank/Vessel Maintenance: Fiberglass tank repairs and maintenance; a cracked flange, add a fitting, install a manway, reline an aging tank or vessel instead of replacement. We have the crews and expertise to repair or restore the integrity of your equipment. Let's see if we can extend the service life of your equipment. No project is too big or two small. Smit Group, LLC. and our partners understand the critical nature of time in a manufacturing environment.
Certified laminators and secondary bonders
Dedicated field service crews – not employee's off a production floor
Large complex project capabilities – with fully stocked 53' service trailer
Highly skilled field service technicians
Non-metallic Tank/Vessel Integrity Inspections: Inspection of non-metallic tanks and vessels can provide valuable insight into to your production assets. Either to provide a bench mark of remaining service life, a plan for restoration, or simple to avoid an unplanned leak or failure. Knowing the status of your equipment's corrosion barrier and projected service life is far better than an unplanned outage. Our inspection crew is OSHA confine space trained, and OSHA 10 Hour trained. ASTM, or ASME RTP-1 tanks; we understand the standards and are ready to report and document your tank or vessel today. (Fiberglass pipe and duct inspections available as well)
"We contacted Smit Group, LLC. on Wednesday due to a cracked flange. By Saturday the repair was made and we return the tank to service." Josh B