Process Solutions
Fiberglass & Fluoropolymer Lined Piping and Process Equipment
Custom Fiberglass (FRP) Piping & Fitting
ECC Corrosion Inc has been manufacturing custom high quality FRP pipes and fittings to supply industry. Our factory in Wisconsin Rapids employee's more than 80 highly skilled labors, working in 73,000 square feet under one roof, quality FRP products for worldwide clients.
We custom make fittings and pipe spools according to customer's specification and can provide field installation services as well. We meet the rigorous demands of our customers in Chloro Alky business and other process aggressive chemical environments. Manufacturing custom piping systems for light duty to aggressive chemical environments, high temperature and high abrasion applications, let use design a system to meet your needs.
FUSIBOND Piping Systems Inc. (Lined Pipe)

"The most complete choice of metals, plastics, and pressure ratings in the Industry."
Our engineering know-how, developmental expertise and over 65 years of actual experience in the lined pipe business, we have developed the most modern equipment and process in the industry. This state of the art molding technique we call our "FUSION-BOND" system. It is the only way you can be sure of the same seamless uniform plastic wall thickness in fittings that is standard in everyone's pipe. Our dense, impact resistant, heavy wall plastic linings, in both pipe and fittings, are temperature compensated and locked into their metal housings – which then expand and contract as a unit.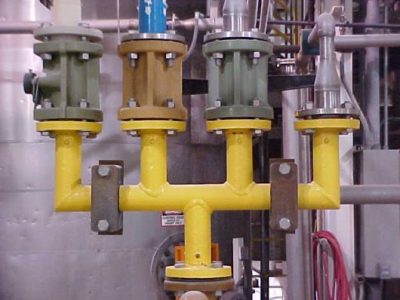 Only FUSIBOND cycles every piece of pipe and fitting from ambient through its temperature range prior to shipment. FUSIBOND, the innovator, molds all linings in place after our fitting is cast or fabricated. We do not bend, stretch, expand, seam or otherwise distort our homogeneous linings in any way. That's quality! FUSIBOND warrants its products 100% as each and every item is spark tested with a minimum of 25,000 volts which insures lining continuity and system longevity once in service. We can quickly furnish any fitting configuration and pipe pressure rating you require.
Corrosioneering is a division of FUSIBOND Piping Systems. This specialty products group offers custom products to solve your corrosion problems. Products include towers and columns, Dip Pipes, Rods, Tubes, Profiles, large diameter plastic lined pipe, plastic lined fittings, and custom lined fabrications. We line with HDPE, PP, PVDF, ECTFE, ETFE, PTFE, PFA.
"No matter what Industry we have a solution for you."