Fiberglass Structural Solutions
Composite Structural Solutions
Advantages of Fiberglass Structural Materials
Non-Conductive – Heat or Electric
Corrosion Resistant
Fire Retardant
Low maintenance
Molded in color
Cost Effective – Low Life Cycle Cost
High Strength to Weight Ratio
Pre-built Components
Ready to Install
No Hot Wok required
Industry solutions to corrosion: Grating, Stairways, Ladders, Tank Access Platforms, Walkovers, & Process Supports (Pipe Racks, Pipe Stands, Valve Supports, Skidded Sub Assembles).
Fiberglass Structural Shapes
A wide variety of sizes and shapes such as angle, channel, I-beam, tube or special shapes like solid tube or threaded rod. Let us help you find what you need.
Fiberglass Grating / Solid Surface Decking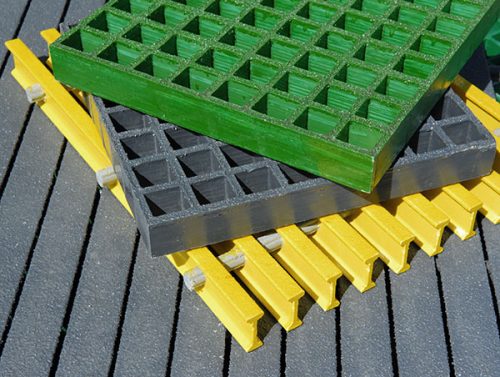 Fiberglass grating and solid surface decking comes in a variety of colors styles and materials. Your specifications are all we need to design and fabricate your project. Fiberglass is available in molded or pultruded stock. We will fabricate and cut panels to meet your size specifications. Grating clips and hardware are available for both types of grating and treads. Contact us to discuss your project requirements.
Fiberglass Ladders
Custom builds heavy-duty fiberglass ladders to meet your individual requirements per OSHA & ANSI specifications. Ladders are ideal for user with catwalks, mezzanines, roof and tank access.
Safety cages, safety rail/trolley, removable extensions and walk-thru applications are available. Ladders are fabricated using reinforced pultruded fiberglass (FRP materials).
Ladders are manufactured in the USA exceeding the ARRA requirements. Standard wall and floor mounting brackets are included.
Corrosion Resistant/No Rust
Safety Yellow Color
Maintenance Free
Non-skid UltraGrit™ Coated Rungs
Light Weight
Non-Conductive – Heat & Electric
Per OSHA and ANSI Standards
Exceeds 1200 lbs Duty Rating
Fiberglass Staircases
Custom builds heavy-duty fiberglass staircases and ships ladders to meet your individual requirements per OSHA & IBC specifications. Fiberglass risers and non-skid treads provide a low maintenance alternative to steel. We will fabricate to your specifications and help you comply with current applicable codes. Let us relieve your work and design the next staircase.

Custom Platforms
Every platform is custom manufactured utilizing our CAD design build process. This ensures your platform accurately meets the application requirement and exceeds your expectations.
All fiberglass platforms are completely factory assembled and tested to ensure quality. Platforms are then broken down for shipping and marked for easy assembly in the field. This reduces installation cost and improves efficiency in the field.
The lightweight characteristics of structural fiberglass facilitates simple onsite assembly and reduces shipping costs. Our platforms meet or exceed all OSHA standards and can be designed to comply with International Building Code (IBC) standards.
Our design team can help you find solutions to whatever application you might have. Detailed drawings are provided for approval for each custom project. Quality craftsmanship and attention to detail go into every job. Contact us today to quote your next project.
Custom Handrail
Custom design and fabricated Fiberglass Handrail or Guardrail System to meet your specifications.
Handrail components are Safety Yellow and include FRP M-shaped toe plate. Fiberglass Handrail Systems are shipped in assembled sections up to 20′ long. Handrail can be built for attachment to new or existing stairways, walkways or platforms. Many mounting option available.
Containment Accessories
Custom fabricated walkovers, pipe support, clevis han
gers, pump enclosures, even pipe racks to support the "system" from bulk storage to process areas. Often areas that nickel and dime your maintenance budgets year after year. Will help you find the solutions in those aggressive environments.

Ultra Fiberglass Systems
Our partner Ultra Fiberglass Systems specializes in the design and fabrication of structural fiberglass. Our team will provide timely quotes and drawings plus close project management and attention to detail provide unparalleled customer service.
Ultra's superior craftsmanship goes into every custom design and build project from caged ladders and walkovers to large scale plant expansions.